Homepage
Casa de Armonía (House of Harmony)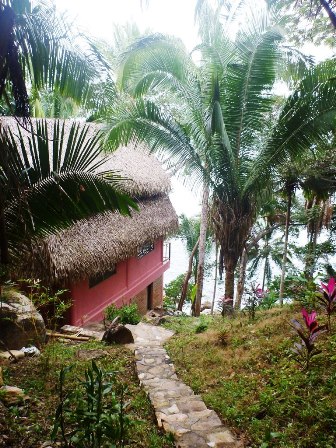 Arriving in Yelapa by water taxi (panga) from the Los Muertos pier in Puerto Vallarta at Isabel's beach (Playa de Isabel) you will be greeted by us and our local guide who will carry your luggage to the house which is located 12 minutes walk from Isabel's beach at "The Point".
Casa de Armonía is nestled harmoniously into the jungle right on Banderas Bay where if you like can catch your fish dinner right from the rocks.
Casa de Armonía is ideal for anyone who loves undisturbed nature, doesn't mind a little walk, enjoys peace and quiet living which especially writers and/or artists will enjoy.
Wildlife is abundant at the point. There are more than 155 different species of birds alone...
And you can see whales, dolphins and manta rays right from your living room chair or hanging bamboo sofa!
Casa de Armonía's 'old' Yelapa style palapa roof, hanging bamboo bed in the tapanco (upstairs), and hanging bamboo sofa downstairs, combined with the conveniences that 'city houses' offer, like big refrigerator, 6-burner stove, and washing machine and we have now Yelapa Wifi high-speed Internet!! make this ocean-front jungle house so unique.
Once you get settled in if you desire so, we can arrange any tours like a trip to the Marietta Islands, fishing, snorkeling and diving trips, kayak rentals, as well as horseback riding to the Yelapa upper waterfalls.
We have created for you a little video slide-show so you can get a first 'visual' glimpse of your upcoming Yelapa adventure. You can find newer photos in our section 'photoalbum'!
Our exact location is marked with a star* @ minute 6.04 - 6.07.
You can find us now also on the map #25 under "Accommodations" on the yelapa.info website!
It takes 12 minutes from the casa to Isabel's beach, another 8 minutes to the first tienda (store) in the Pueblo and another 20 minutes to the Yelapa (main) beach.
For more information on Yelapa see our section "About Yelapa"
Please visit our Page "House of Harmony, Yelapa" on Facebook.
https://www.facebook.com/houseofharmonyyelapa